Terkel in Trouble (also known as Terkel i Knibe in Danish or The Trouble with Terkel in English) is a Danish adult CGI animated film is about a boy named Terkel & his best friend named Jason, The boys who are bullies are named Sten & Saki, A girl who have a crush on Terkel named Doris, she kill herself by jumping off the window from school after being bullied by Sten & Saki because of Terkel faked rejected her. They also have both English dubs, The US dub was called "The Trouble with Terkel". And The UK dub was called by the same title as the Danish dub, but sadly both US and UK dubs can't be found anywhere.
Found Stuff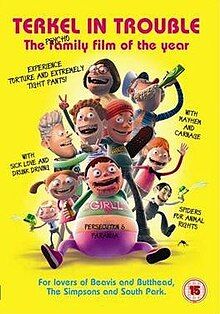 Terkel in Trouble Trailer (US version)
Terkel in Trouble Trailer (UK version)
A rare English dub clip was found on Vimeo.
Trivia
On Amazon, Terkel In Trouble have been release on DVD with Danish dub with English subtitles. (Link)
From every watch online site, they used to have "Terkel In Trouble" full movie in English and years later the english dub was unavailable and they were no longer showing the results for "Terkel In Trouble" from any watching site like 123Movies.
Known Voice Actors (UK dub)
Terkel - Adrian Edmondson
Barry Cremone - Bill Bailey
Jason, Osprey, and Nigel (Sten) & Saki - Ben Bishop
Sheila - Olivia Colman
Fiona (Rita) & Doris - Helena Roman
Justin - Toby Stephens
Uncle Stewart - Johnny Vegas
Leon - Tim Everett
Joanna and Sally - Melaine Cooper
Known Voice Actors (US dub)
Terkel - Mike Olsen
Barry Cremone - Richard Janes
Doris - Vanessa Gomez
Saki - Jake Goldman
Nigel (Sten) - Stephen Ji
Lucy (Rita) - Nuria Garba
Jason - Rhune Kincaid
Joanne (Joanna) - Carrie Keagan
Uncle Stewart - Chad Ridgely
Community content is available under
CC-BY-SA
unless otherwise noted.