watch 01:23
Wiki Targeted (Entertainment)
Play Sound
Terkel in Trouble (also known as Terkel i Knibe in Danish or The Trouble with Terkel in English) is a Danish adult CGI animated film is about a boy named Terkel & his best friend named Jason, The boys who are bullies are named Sten & Saki, A girl who have a crush on Terkel named Doris, she kill herself by jumping off the window from school after being bullied by Sten & Saki because of Terkel faked rejected her.
Found Stuff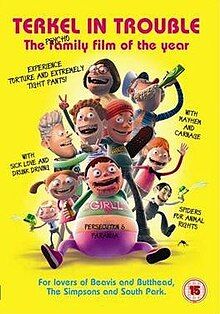 Terkel in Trouble Trailer (US version)
Terkel in Trouble Trailer (UK version)
A rare English dub clip were found on Vimeo
Trivia
On Amazon, Terkel In Trouble have been release on DVD with Danish dub with English subtitles. (Link)
From every watch online site, they used to have "Terkel In Trouble" full movie in English and years later the english dub was unavailable and they were no longer showing the results for "Terkel In Trouble" from any watching site like 123Movies.