watch 01:45
The Loop (TV)
Play Sound
Thomas and Friends is a childrens show from the 1980s based on The Railway Series by the Awdry family, The show focuses on Thomas, a cheeky blue tank engine and his many friends on the island of Sodor. The show has been adored by kids and adults around the world. In 2010 Hit Entertainment announced there would be a film adaption set in WWII but however barely anything has resurfaced about it.
Production
On Hit Entertainment's website it was revealed that a film of Thomas the Tank Engine was in production.
This would of mark the second worldwide regular Thomas film on the big screen the first time being Thomas and the Magic Railroad, which was a box office bomb.
The film was directed by Shane Acker (who directed the movie 9) and was going to be produced by Julia Pistor (who worked on The SpongeBob SquarePants Movie) and was going to be written by Will McRobb (The creator of KaBlam!) Josh Klausner (who written Shrek III) and Chris Viscardi (who also created KaBlam!).
The film was going to be released in 2010 but pushed to 2011 then to 2012 and Finally the film was pushed to 2014, But now its 2020 6 years from 2014. It's highly likely the film didn't that get far into production and was cancelled early on.
The only things that have resurfaced are a promo and the film's logo
A user on the Thomas Wiki contacted Shane Acker and he sadly confirmed that project was scrapped.
Trivia
According to the Sodor Island Fansite (SIF) the script for the film was finished in 2010.
There was also a teaser sizzler too, which has been on YouTube for a while. https://m.youtube.com/watch?v=ahbK6ecIpFc
Weta Digital was going to do CGI animation for this film.
The film was going to be a pilot for a set of movies that would run alongside the official series
According to the wiki, the film would have a range of Merch geared towards an older audience
A possible reason the film was cancelled was the flop that was Thomas and the Magic Railroad and some of the story being similar to one of the side plots of said movie.
Another reason that this film was cancelled was there was already a Steam and Diesel confrontation in Calling All Engines.
During production, Mattel bought Hit Entertainment during 2013 and they had to focus on other projects, like Series 17.
It is currently unknown who was going to play Thomas, let alone all the other characters.
Story
The film would of taken place in London during the Second World War and would of focused on a pre teen boy who has been drifted away from his father. The boy is told about the island of Sodor where they reunite.
The film would also have a Steam and Diesel confrontation.
Gallery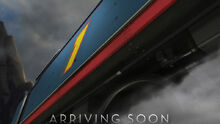 Community content is available under
CC-BY-SA
unless otherwise noted.