Doctor Strange in The Multiverse o Madness - The Loop
Play Sound
Check out the Lost Media Wiki's article on The Adventures of Tintin: Tintin and Alph-Art's unfinished ending!!!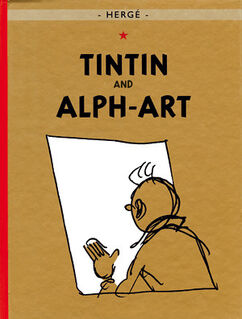 The Adventures of Tintin is a Belgian comic book series that was first serialized on January 10th, 1929, written and drawn by Georges Remi, better known as his pen name Hergé. The series stars boy reporter Tintin and his dog Snowy adventuring around the world, alongside longtime companions Captain Haddock and Professor Calculus. The books often had an action/adventure plot, but sometimes delt with mysteries and science fiction.
The series spanned 23 finished books, with a 24th, and intended final, book unfinshed. This book went by the name Tintin and Alph-Art. Ideas for the story jumped between a story set entirely within an airport and Tintin and Haddock having to clear a friend's name from murder. In the end, the version we have centered around the world of art, and Tintin stumbling upon a large collection of counterfiet pieces.
Hergé died in 1983, leaving behind an unfinished finale to Tintin. Alph-Art was released in an unfinished state comprised of
sketches in 1986, with the last page showing Tintin being marched away by gunpoint to become a wax statue. From there, nothing else is known about what may have happened, or what Hergé had in mind for the ending. Pages have been rediscovered over the years, with a rerelease in 2004 including more pages than the previous album. These pages were mostly other ideas Herge had for the book, from small details to ideas for a planned ending, involving longtime villain Rastapopoulous being the mastermind behind the counterfeit artwork.
As of now, the series ends on a massive cliffhanger, with little chances of there being extra pages to explain what may happen next in The Adventures of Tintin.