Doctor Strange in The Multiverse o Madness - The Loop
Play Sound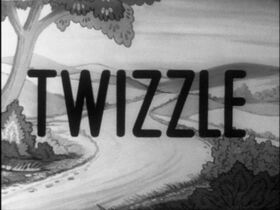 The Adventures of Twizzle is the break-into-television from AP Films and Supermarionation artist Gerry Anderson, who would go on to create popular British science fiction shows as Fireball XL5, Stingray, Thunderbirds, Captain Scarlet & the Mysterons, Joe 90, The Secret Service, UFO, Space:1999, Dick Spanner, P.I. and New Captain Scarlet. (Although amazingly, with the exception of Twizzle, the entire CV of Gerry Anderson is still in existence).
It was created by Roberta Leigh and Suzanne Warner in 1957, with many of Anderson's future collaborators, including Composer Barry Gray, Art Director Reg Hill, and Special Effects Director Derek Meddings serving as part of the production crew. The series, while using intricate puppetry, predates the first official Supermarionation series by Anderson, Four Feather Falls, by two years, though it's still classified as such by many.
Twizzle is a boy puppet with the ability to extend, or "twizzle", his legs and arms, who wears a pixie-like hat and has a cat companion known as "Footso". Twizzle was voiced by Nancy Nevinson, and Footso was voiced by Denise Bryer, who would go on to work on Terrahawks. 
The series follows Twizzle and Footso's adventures, as Twizzle uses his limb-extending powers to get out of troublesome problems.
In total, 52 episodes were made and aired, with the pilot being broadcast on November 13, 1957 at 4:30pm. Much like Roberta Leigh's other puppet show Sara & Hoppity, the entire series, save the first episode, Twizzle and Footso, is believed to be lost. A 16mm reel of this episode was discovered with the entire 16mm reels of the complete series of Space Patrol in Roberta Leigh's possession. The pilot episode was included in the 2003 DVD release of Space Patrol and was eventually posted on YouTube hence the video below.