Doctor Strange in The Multiverse o Madness - The Loop
Play Sound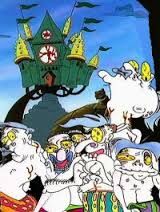 The Brothers Grunt (1994-1995) was an MTV cartoon created by Danny Antonucci (creator of Ed Edd n Eddy). Due to low ratings, the series was cancelled in less than a year. There are 10 episodes that have not surfaced onto the internet, though synopsis and images from the episodes can be found for most of them. For the last three episodes, the existence is unconfirmed as there is no evidence to support them ever being made.
Episodes Missing
36 - Perry Come Home
"Perry is haunted by visions of the Gruntus Poobah as he goes through his day. He does everything he can to escape, but everywhere he turns the Poobah's face is waiting. Meanwhile, Gruntus Poobah is using a radio transmitter of some sort."
37 - Bring Me the Head of Perry the Grunt
"Perry masks are the in costume this Halloween and Dean runs through town chasing after the Perry-faced children. There are so many of them that Dean snaps and collapses in the street. He ends up with a Perry mask and thinks he's killed his lost brother."
38 - Black Balled Grunt
"Gruntus Poobah flashes back to Perry's childhood. A baby boy was left on the monastery's doorstep. Gruntus Poobah took the baby in and he was raised alongside Ringo and the rest. The baby grows into a bully, and is cast into the monastery's steam room. He incites a rebellion and almost overthrows the Poobah, but Ringo beats the truth out of Perry and drops him down a pipe."
39 - Perry's Day Off
"Perry spends a day trying different professions and in each one he's almost found and captured by one of his brothers. Each time he unwittingly escapes."
40 - Tony & Lace
"Tony comes across Perry working as a park ranger. His attempts to capture Perry are foiled by an untied shoelace. When he finally ties his shoe, he's taken captive by a she-bear. They have three horribly ugly children."
41 - The Filling of the Shorts
"Dean returns to the monastery to get a refill on cheese. Gruntus Poobah recounts the story of Brother Wayne, the Grunt who invented special shorts for carrying cheese when leaving the monastery. Dean is loaded up with cheese and sent on his way."
42 - Poobah Blues
"Gruntus Poobah recalls his days as a beatnik."
Existence unconfirmed
43 - Hunt for Grunts
44 - Friends! Romans! Grunts!
45 - The Wedding
Screenshots
References
TheTVDB page featuring synopsis and images from the episodes: Retrieved 04/03/16