The Care Bears Family is an animated television series based on the Care Bears franchise, which originally aired between 1986 and 1988 in syndication; on the ABC network. In Australia, Magna Entertainment released all 52 episodes (in chronological order) on DVD named "Care Bears Collection 7-disc".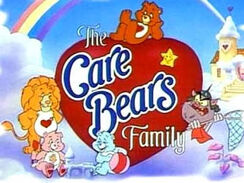 In 1988 dubbing studio Media Dubb, acquired the rights to make an Swedish Dub, under the title Krambjörnarna. The series was broadcasted exclusively on TV3 Scandinavia from London (ScanSat) broadcasting, between 1988-1989.
2002 KM Studio re-dubbed the series for broadcast on Channel 5 Nordic, which is nowadays the most known Swedish Dub of The Care Bears Family.
No full episodes from the Swedish Original Dub has reached surface since, and is rarely talked about online.
Community content is available under
CC-BY-SA
unless otherwise noted.