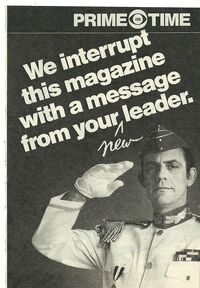 The Dictator was a 1988 American sitcom scheduled to begin airing on CBS on March 15. The program would star Christopher Lloyd as Joseph Paul Domingo, a dictator from a small Caribbean island who is deposed and exiled to Queens, New York. There, he sets up a laundromat with his wife Isabel (Played by Deborah Rush) and their children, Reggie and Andrew (Played by Robyn Lively and John David Cullum), as well as Domingo's former General, Vesuvio (Played by Joe Grifasi). The pilot featured David Allen Grier and Peter Crombi as guest stars. The show was scheduled to air on Tuesday nights at 9:30. However, on March 7, The Writer's Guild went on strike just as the series was set to tape it's third episode. The network didn't want to premiere a series with so few episodes and ultimately cancelled it without airing any of them.
This unaired series has faded into obscurity, and aside from a magazine ad and a few pictures surfacing, it hasn't been seen or been made available to the public.
Community content is available under
CC-BY-SA
unless otherwise noted.