The Mandalorian's Popularity | The Loop
The Dream of Hamish Mose is an unreleased 1969 western that was written and directed by western character actor Cameron Mitchell (who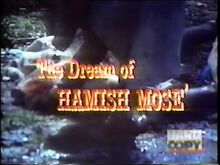 financed the film himself) in his only directorial role. With a cast that included Rockne Tarkington, Henry Darrow, Mitchell's co-star from the western television drama, High Chapparal, Mitchell himself as an insane Confederate soldier based on General Sherman, and a number of actors from the Buffalo Soldiers episode of the Chapparal show. The film also featured the feature film debut of a young O.J. Simpson in a small supporting role. Precious little is known about the movie, considering that very few people have seen it, but there are reports that the plot consists of a team of Civil War Buffalo Soldiers carrying a deceased colleague to a sacred burial ground. It reportedly contains sparse dialogue, Mitchell narrating the story with mystical non-sequiturs, and surreal sequences such as a close up of a donkey's excrement. Shooting took place on location in boondock towns in Texas and New Mexico, and Mitchell had to cut corners to accomodate the low budget, such as using some of the principal black actors in additional roles as Indians by disgusing their faces with hoods when actual Native American actors couldn't be hired. When the script required a woman to be part of the journey, Mitchell simply had a gay male producer dress in drag and kept him out of focus. Mitchell also didn't hesitate to put his cast and crew in danger. When he noticed that a wild animal show was holed in the same hotel he and his team were, he featured some of the animals in the film, such as a large Grizzly Bear that charged the cameraman, and a leopard that nearly mauled one of the actors.
Mitchell eventually went bankrupt from a divorce and was forced to shelve the project in an unfinished workprint state. After his death, the footage was sold to actor Philip Pine, who in turn sold it to an unknown party. Aside from a small mention in a July 14, 1969 Sports Illustrated issue announcing Simpson's participation in the project, a few pages in Darrow's autobiography, Lightning in the Bottle, and a short article in an issue of Shock Cinema Magazine, the film has gone largely unmentioned in the mainstream press.
Community content is available under
CC-BY-SA
unless otherwise noted.