The Eggs is an Australian-Canadian animated children's program that aired on the Nine Network, and was produced and created by Tony Byrne and Brendan Byrne, with the production companies, B&T Entertainment and Funbag Animation Studios. There are 52 episodes, spread across four seasons (series) of the show, each 12 minutes long.
Series 1 of the show has been made publicly accessible by YouTubers Xploshi and TrustyCranberry via a Google Drive folder (link). YouTube user Robert Morels has uploaded some of the episodes from series 1-4, and New Bike Entertainment, a company created by former Funbag employees, uploaded the entire series to their YouTube channel.
UPDATE (07/19/22): Only 23 episodes are currently available on New Bike's YouTube channel, as the other 29 are privated. The entire series is still available on YouTube, as the remaining 29 episodes are archived by other users.
Other Media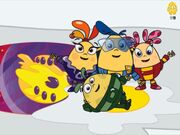 While there seems to be no record of The Eggs merchandise other than DVDs, there were a number of official coloring sheets, desktop wallpapers, songs, and a screensaver available on the kid's section of the NineMSN website. The site is no longer available, but it has been archived on the Wayback Machine (link). The Eggs also had an official website as seen in the credits at the end of episodes, unfortunately it was never archived and still remains lost with no documentation whatsoever.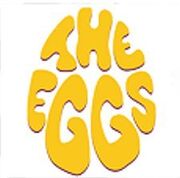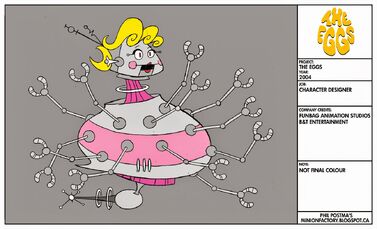 Prototypes
A couple of trademarks for proto versions of The Eggs have been found online.
A live action pilot for The Eggs was filmed in the early 2000's, where The Eggs were played by actors in realistic and uncanny egg costumes. It is unknown if the pilot still exists and all that remains is a CD case which once held the prototype Egg songs, the actual CD has gone missing. On August 1, 2022, the CD was found by a user named DeltaHedron because he and his family owned the CD for The Eggs 2001 pilot album.