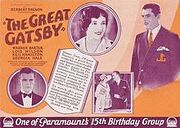 The Great Gatsby is a surviving silent film that was made one year after F. Scott Fitzgerald's book of the same name was published. It was produced by the Famous Players-Lasky and released by Paramount Pictures as part of their 15th Anniversary. The film only survives on VHS, but it's not online yet. However, the trailer for the film from the 1926 VHS of Old Ironsides is still available if you don't have the VHS.
Cast:
Warner Baxter as Jay Gatsby
Lois Wilson as Daisy Buchanan
Neil Hamilton as Nick Carraway
Georgia Hale as Myrtle Wilson
William Powell as George Wilson
Hale Hamilton as Tom Buchanan
George Nash as Charles Wolf
Carmelita Geraghty as Jordan Baker
Eric Blore as Lord Digby
Gunboat Smith as Bert
Claire Whitney as Catherine
Claude Brooke - Bit part (uncredited)
Nancy Kelly - Uncredited role
Community content is available under
CC-BY-SA
unless otherwise noted.