Warning: The following article deals with mature subject matter.
The Great Satan at Large (original "pilot")
The Great Satan at Large was a public access program that appeared without warning on a Tucson public access station on October 5, 1991 around 6:00 p.m. The host of the show, Lou Perfidio, is seen in a Satan costume throughout the program. It was found that one guest's name is Jim Anderson. The jester however has never been named.
At first glimpse, the show appears to be a simple tongue-in-cheek parody - however, it takes things to further, more explicit territory as it goes on.
The aired episode contained graphic violence in background clips mostly from underground director Richard Kern, nudity/sexuality including a masturbating court jester, and strong language throughout.
Note: The video can be found online, but due to its graphic content we are choosing to withhold it from linking here.
After the show aired, there was great controversy in Tucson over its graphic content. Perfidio was to be charged with obscenity but fled the state before the charges could be made.
Lou Perfidio died at the age of 43 in 2006. The causes have not been verified to this day.
Israel666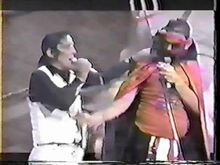 It is unknown if Israel666 was another episode of the show, if it was produced by Lou Perfidio or if it was a different public access show; however, it, or one episode of it, involved Lou Perfidio pleading his case to keep The Great Satan at Large on the air.
A site entitled "Stumpy Disks" for rare material on DVD-Rs claims to have a disc with the Israel666 episode, however it has never been confirmed if the site/disc is legit and if copies can still be purchased.
Community content is available under
CC-BY-SA
unless otherwise noted.