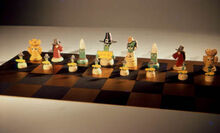 In the 1950s, The Gumby Show had a theme song involving the show's host, Pinky Lee. It reportedly involved Gumby giving an introduction, jumping into a fire engine, climbing the ladder and going into a book, looking for Pinky Lee in the fun forest, and Pinky Lee singing his theme song. Although the Audio is on YouTube, the actual footage has not surfaced on the internet. However, the Gumby Dharma documentary shows the part when Gumby was climbing the ladder to the book shelf. It is hoped that someone will post the theme with the footage on YouTube.
Community content is available under
CC-BY-SA
unless otherwise noted.