Doctor Strange in The Multiverse o Madness - The Loop
Play Sound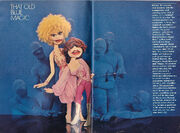 The Hanna-Barbera Happy Hour was an hour-long weekly variety TV series that was hosted by two female puppets called Honey and Sis, who are meant to be sisters and teenage star characters.
It aired on NBC in 1978, and was produced by Ken and Mitzi Welch. Only four episodes were shown; The first episode aired on April 14 and the last on May 11th. It's cancellation was likely due to low ratings, as it aired against Welcome Back, Kotter and What's Happening!! (both on ABC), and the variety show was becoming an aged formula. After the cancellation, NBC ran reruns of CHiPs in its time slot.
Honey (voiced by Udana Power) is the the tall blonde one, age 19, who would think of herself as highly talented, while Sis (voiced by Wendy McKenzie - her only listed role), her younger redheaded sister, 17, would be the one who actually is gifted. They got into a musical career after being convinced by their voice teacher (played by Betty White), who was drunk due to too much alcohol-laced candy. They first audition for a musical, whose director (played by Melissa Sue Anderson) is being condescendant. Honey and Sis would sing, do regular sketches such as "The Disco of Life", where they'd meet people in a disco club, or "The Truth Tub", where they relax in a hot tub and do parodies of popular TV shows at the time, such as Laverne and Shirley and Three's Company (both also on ABC).
There were guest stars such as Abe Vigoda, Anson Williams, Tony Randall, Dan Haggerty, Melissa Gilbert, Linda Lavin, Connie Stevens, and Twiggy. They would introduce themselves instead of an announcer.
Actors in costume impersonating famous Hanna-Barbera cartoon characters would cameo, such as Yogi Bear, Snagglepuss, or Huckleberry Hound, all being voiced as usual by Daws Butler.
Honey and Sis were designed by Iwao Takamoto and their costumes were created by fashion designer Bob Mackie. They were manipulated by a team of six pupeteers who would wear full-body blue leotards in front of a blue screen, so that the two characters would be chroma-keyed on a different background. Takamoto remembered that the puppeteer's extent of movements was "very impressive".
The episodes have never resurfaced anywhere, and no copies are known to exist on the trading circuit. All that remain now are witnessings from the crew and viewers, as well as some pictures and ads that would describe the premises.
References
http://www.imdb.com/title/tt0467378/ IMDb page
http://books.google.fr/books?id=00B68sB1-CkC&pg=PA161&dq=%22the+hanna+barbera+happy+hour%22&hl=fr&sa=X&ei=DRr3U4vvF8fYPPXMgOAG&ved=0CCoQ6AEwAA#v=onepage&q=%22the%20hanna%20barbera%20happy%20hour%22&f=false Recalling of Iwao Takamoto in his memoirs
http://www.udanapower.com/archives/350 Interview of Udana Power
http://yowpyowp.blogspot.com/2014/04/check-your-local-listings.html Blog about old Hanna-Barbera shows