The Heart She Holler's advertising in 2013 consisted of short jumpscares in existing Adult Swim bumpers airing at the time. They got louder as August went on until the full commercial appeared. It advertised Season 2. The most common version has less blood and lasts for 30 seconds at most. However, there was another possible version that lasts for just 15 seconds. However, most public uploads are 30 seconds. Even the Adult Swim website has the 30 second version. Only one video has the 15 second version but in poor quality and only eight seconds were recorded. A user on YouTube named Top15s talked about this bumper on his "Scariest Commercials That Actually Aired" video in its full version in higher quality, although this is the 30 second version.
Current Status: Found (30 Seconds); Unknown/Unconfirmed/Possibly Lost (15 Seconds)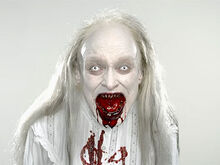 Community content is available under
CC-BY-SA
unless otherwise noted.