We're Getting Mutants in the MCU - The Loop
Play Sound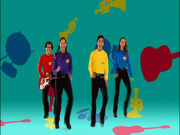 The Latin American Wiggles are a localization of The Wiggles for Latin America. The line-up is made up of Zoe Velez (Blue Wiggle), Fernando Moguel (Yellow Wiggle), Katty Villafuerte (Purple Wiggle) and Francisco Madrid (Red Wiggle). Not much is known about them, and one confirmed video (Despierta Katty) was possibly released. Only one full song clip has surfaced, which is Can You (Point Your Fingers and Do the Twist?) as a bonus on the DVD of "Hot Potatoes! The Best of The Wiggles". A television series aired on the Disney Channel in Latin America. On May 22nd, 2021, Anthony Field announced on Twitter that content of both The Taiwanese Wiggles and The Latin American Wiggles would be shown on The Wiggles' official YouTube channel. This was further confirmed on June 7th, 2021 when Francisco and Zoe posted a video on the channel which included another full song (Dorothy (Would You Like To Dance?)). On June 11, 2021, the first full-length Latin American Wiggles episode surfaced YouTube.
Gallery
Discoveries
There is a rumor of a video called "It's Time To Wake Up Katty!" made by some people on YouTube. But we need proof of the video's existence!
After a few months of being rumored, some photos were uploaded to this page and Wigglepedia. From one image, you can tell that there is, in fact, a video called "Despierta Katty" (translated to Wake Up Katty) along with some songs including Having Fun At The Beach, Hot Potato and a prologue for Dorothy (Would You Like To Dance?). The wiggly animations for Henry's Underwater Big Band and MAYBE Vegetable Soup were likely included. However, no videos of this DVD have been seen.
Videos
https://www.youtube.com/watch?v=0R7OeUpSc-U