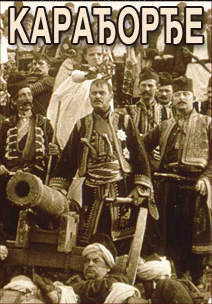 The Life and deeds of the Immortal Vožd Karađorđe (Serbian: Život i dela besmrtnog vožda Karađorđa, Живот и дела бесмртног вожда Карађорђа), or simply Karađorđe (Карађорђе), is a 1911 silent film which was the first feature-lenght motion picture made in Serbia and in the Balkans. It depicts the life of Karađorđe, 19th century Serbian Revolutionary. The film received a moderate success.
However, after it was released in the US in 1928, the film became very rare. In 1947, one private owner of the last known copy of the film had to toss it in the river Danube to avoid persecutions for political dissent by the new Communist Regime of Josip Broz Tito. After that, it was considered as a lost film.
In 2003, the film was rediscovered in the Austrian Film Archives in Vienna by Aleksandar Erdeljanović and Radoslav Zelenović. They spent over 3000 hours attempting to re-master the film, whose quality had been significantly degraded due to the damp conditions in which it was kept. They were able to recover around 80-90% of the film. Once the pair had completed their work, the film, now with a reduced length of 62 minutes,was broadcasted on Serbian television on 100th anniversary of The First Serbian Uprising.
Community content is available under
CC-BY-SA
unless otherwise noted.