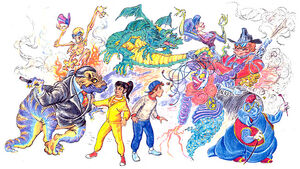 The Magic 7 is an animated children's TV movie written and directed by Roger Holzberg. It is about the adventures of two children that battle the arch-enemies of the planet Earth. The film was intended to be released on April 22nd back in 1997, but was unfortunately postponed. Later in 2005 plans were made to release the film, only to have the film postponed again.
The film started its production back in 1990, in which it has been delayed several times since then. This was around the time that John Candy and Madeline Kahn, alongside the other actors (e.g. James Earl Jones, Michael J. Fox...), were starting the voice acting sessions for the film. Unfortunately, Candy died in 1994 and Kahn also died in 1999. Candy was going to play the role of "Smokestack Sam" and Kahn was to play "Wastra". After their deaths, the audio recordings of their roles and their place on the cast were removed from the film permanently.
The year after Candy's death, a company that goes by the name of Pulse Entertainment and Distribution, under the supervision of their Chief Executive Officer, decided to buy the rights of the film and subsequently made the decision to fully produce the animated film. They then hired a songwriter named Robert J. Sherman to create extra songs for the film. The project reached a road block with insufficient funds and the film was called off in the early 2000's. However, according to IMDB, the film was eventually released in 2009.
It is unknown what happened to the Candy/Kahn audio, as it has not been heard by the public, and most likely will never be.
Community content is available under
CC-BY-SA
unless otherwise noted.