Wiki Targeted (Entertainment)
Play Sound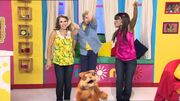 The Milkshake! Show was a live-action in-vision magazine show that aired on Channel 5 from 2007 until 2011. It ran for 3 seasons, and it rivaled the likes of Hi-5 and The Wiggles. Season 1 & 2 are very rare to find online. Channel 5 took the show off air (re-runs stopped airing) in 2013.
Presenters
Kemi Majeks (2007-11). Naomi Wilkinson (2007/8). Beth Evans (2007/8). Hannah Williams (2007). Jen Pringle (2008-11). Derek Moran (2008-11). Milky the Cat (Marcus Clarke) (2007-11). Shake the Dog (Helena Smee) (2007-11).
Findings
British vlogger Mayday51: Nostalgia for Everyone! has uploaded every series 3 episode (except DIY & Putting on a Show) on his YouTube channel, into 2 parts. No full episodes of the first 2 series have been found yet, only most songs & certain clips.