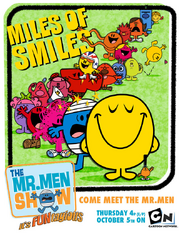 The Mr. Men Show was an animated television series that aired on Cartoon Network in the US and Milkshake Five in the UK based on the Mr. Men/Little Miss books by Roger Hargreaves. During the development of the show, some of the characters looked different before their final designs. One of them were some Mr. Men and Little Miss characters from the books that were dropped before the final cut. Here are some characters and early designs that were changed or cut during production. Ever since then, not much images of the original characters and early designs have been surfaced but some images like the early versions of Mr. Fussy can be found in the Mr. Men Wiki, the early version of Mr. Fussy (Mr. Persnickety in season) made a cameo in the US version of Mr. Bump Pinball, and Martin West uploaded some promotional materiel she created for the show when it was going to be released on October 4th, 2007.
Early Designs
Mr. Fussy - He also looks the same as the original but wore a brown vest.
Little Miss Helpful - She originally had pink hair.
Mr. Quiet - His original skin color was light green and had a yellow nose.
Little Miss Calamity - She had different shoes and her hair and skin color was darker. The shoes can be seen in both the coloring page and the promo.
Lost Characters
In a article when the show first appeared, Eryk Casemiro stated that there were some characters they dropped, such as Miss Twins and Miss Fickle as Cartoon Network wanted less female characters. They stated also Miss fabulous, but that character never existed until 2016.
A character named Miss Fun appeared in the back covers of the American DVDs during the release of the second season, but never appeared. According to Mark Risley, they never intended on using her. She was probably created to replace Miss Calamity due to Chorion's hatred of the character.