The Mr Potato Head Show Was A Kids Puppet TV Series That Would Air On Fox Kids In 1998 The Show Was Sadly Cancelled In January Of 1999 With No Home Media Release Of Any Kind. After The Show's Cancelation The Creators Made A Direct To-Video Movie That Explains The Show's Cancelation Since The Show's Incredibley Obscure There's Not A Little Chance That There Would Be A Home Media Release Of Any Kind. The Bits & Pieces From The Direct To-Video Movie Were Known As The Episodes Lasting Only A Single Season.
Availability
On May Of 2016 A YouTube User Of The Name Bloggaming Uploaded All The Show's Episodes On YouTube On Some Form Of Google Site From The Internet.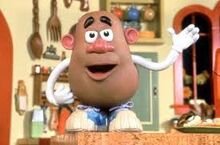 Community content is available under
CC-BY-SA
unless otherwise noted.