Wiki Targeted (Entertainment)
Play Sound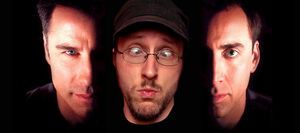 Doug Walker, is one of the many internet film critics that use humor as a means to review terrible movies. His show, The Nostalgia Critic, is known for revolutionizing the way internet shows were made.The show is hosted on the site, That Guy With The Glasses, which has a foray of internet critics that take on a number of different mediums. The series started back in 2007, was intended to end in 2012, and brought back in 2013 due to popular demand.
Doug Walker fans have noted that he doesn't have very much in the way of missing material. Anything fans are curious to see he has no problem showing, for the most part. Then, in 2014, Doug was shooting an episode for the Nicholas Cage movie Face/ Off, which was supposed to feature a farewell scene for Rachel, one of the characters whose actress left due to opportunities opening up in California. The scene was later replaced by a parody of what had happened in real life, The Critic accidentally includes the scene in the folder that contains all the scenes for the holiday special, and then deletes the folder as well as empties the recycle bin.
Many fans thought the scene was a joke, and then the ones that stayed after the closing credits found Doug's announcement that the file had been deleted by accident. Obviously the nature of the scene's disappearance as well as the fact that it was really recent, this scene is yet to be seen by the general public. While it may seem like the odds are pretty near impossible for the scene to be found, there is some hope. There are processes that can recover files that were cleared out of the recycle bin on Windows, though the processes are usually incredibly difficult and complex to pull off. While Doug himself very likely does not have the technical know-how to pull this off, odds are someone can still find it for him. The odds are unlikely, but maybe some day this scene will finally see the light of day.
Doug later announced on Facebook that he had pros look over his computer, but the files were not recoverable. He said that he will have it reshot at some future point. In the meantime, behind-the-scenes footage filmed by cast member Malcolm Ray gives fans some idea of what the scene would have looked like.
Community content is available under
CC-BY-SA
unless otherwise noted.