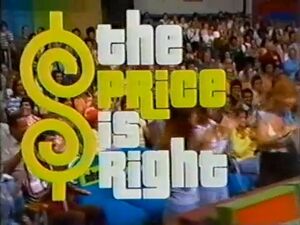 NOTE: Due to this show's absolutely massive run, (thousands of episodes spanning decades) it is quite difficult to track down every missing episode of this game show. The author has tried to list as many of the missing episodes as he can, and tried to make sure the ones that he listed as missing are actually missing. If any of these episodes have surfaced, feel free to remove them from the article. Likewise, if there are missing episodes not listed here feel free to add them.
As many people know, there are many missing or "declared missing" episodes of The Price Is Right. There are some episodes of the show that haven't been aired in years (aside from Game Show Network airing a few by mistake) because Bob Barker placed a ban on episodes featuring fur coats as prizes. Most, if not all, of these episodes have surfaced on bootlegs and YouTube.
What are missing are episodes that had mistakes take place. The third episode ever taped for the daytime revival in 1972 never aired due to a contestant being ineligible and playing anyway. The third episode of the syndicated nighttime run, also taped in 1972, was never aired due to a special set of calculators they used for the show malfunctioning. Two more episodes, taped in 1976 and 1978, were never aired for unknown reasons. On June 8, 1988, production stopped when Janice Pennington got hit with a camera, completely knocking her off the stage and broke her collarbone. As a result, she no longer wore swimsuits on the show. In 2001, yet another episode went unaired due to two contestants switching places in order to cheat. It is not known if any more episodes like this exist or what has become of these other ones. None of the ones mentioned in this paragraph have surfaced.
There are other episodes Barker holds a ban on for more personal reasons. Several episodes featuring models that Barker harassed or had been rejected romantically by also mysteriously stopped airing. Most of these episodes have also been uploaded onto YouTube. There are other episodes featuring contestants and staff members Barker had personal or legal disputes with that have either never or seldom aired. Trying to list all of these episodes could take up a whole separate wiki.
What are missing for sure and possibly permanently are many episodes of Bill Cullen's original run as host (1956-65). While many episodes of the NBC primetime run exist, only a handful of daytime episodes (primarily from 1957 and 1965) and ABC primetime shows (mostly from 1964) do. Fans are working to find some of these episodes in personal collections.