Obi-Wan Finale - The Loop
Play Sound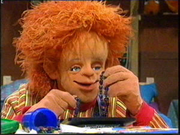 The Rimini Riddle was an Irish puppet TV series that first aired as public access and was then picked up by the Ireland broadcasting networks RTÉ and Network 2, from September 1992 to March 1995. It was part of a television block named Saturday Club and aired three seasons, making a total of 95 episodes.
Plot
The premise of the show is mostly unknown, with descriptions varying from one person to another.
The Rimini Riddle is about three orphans, named Rory, Leo, and Ellen, who live in a guest house with their aunt Vera known as the "Rimini Guesthouse" after their parents die. The house is beside a beach and the orphans are not allowed to go swimming. There is an old picture in the guest house painted by the children's grandmother of two little girls on a beach in Victorian costume and is highly treasured by Aunt Vera. One day while dusting, Ellen cracks the glass in the painting and finds herself in a fantasy world, on the beach in the picture, where she meets the two little girls depicted the picture as well as a fisherman.
The series apparently revolves around a mystery in the Rimini household. The mystery has something to do with the two girls depicted in the aforementioned picture owned by Aunt Vera, who was said to have drowned years ago. There is also a plush otter doll named Otto who is owned by Leo and is said to be evil, and may or may not have some part in the fate of the girls.
Search
The search for the show has dated back since September 24, 2008, in forum. There has been a Facebook group dedicated to looking for the show and forum posts talking about the memories of the show, both negative and positive.
Throughout that time, numerous pieces of footage surfaced, including a clip of a Valentine's Special, a clip of an unknown episode uploaded by the puppeteer, and a clip from the Irish comedy panel series Don't Feed The Gondolas that edited together clips from the show to create a trailer for a fictional pornographic film entitled "Hot Alpine Nights with The Lonely Sheperdess".
The show never received any home media releases
Video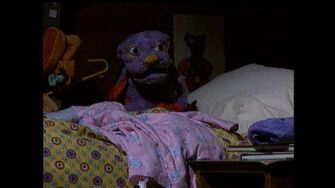 Referene