The Shoe People is a 1987 British children's television Show Created by James Driscoll that ran from 1987 to 1992 by Filmfair (currently WildBrain) and aired on TV-am and CITV, featuring the voice of Philip Whitchurch (who is also the narrator), and later Jo Wyatt in 1992. The show was aired on Nick Jr.'s Eureeka's Castle as a segment, these were redubbed for the American audiences, Similar to Roobarb (which was also shown on a segment on the same Nick Jr. show), Bob the Builder, Thomas the Tank Engine & Friends, Peppa Pig, and The Magic Roundabout (renamed The Magic Carousel for US audiences) however only part of an episode has resurfaced, that episode being "Delay at Shoetown Railway Station". The voice cast and narration is currently unknown.The Rest of the 25 Episodes will likely be on an old video tape somewhere picking up dust
Lost Episodes
Can you keep a Secret?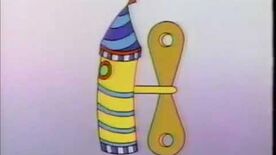 Sergeant Major
A Day at the Seaside
Trampy
Trampy's Birthday Surprise
Margot
Charlie
A Rainy Day Problem
Tea at the Little Big Top
Fun and Games in the Park
Charlie's Car
P.C. Boot to the Rescue
Trampy's Dream
The Fair Comes to Shoetown
Sneaker
The Windmill Has Stopped
A Job for Wellington
Margot's Mirror
The Missing Jumble
The Paper Chase
Where's Baby Bootee
Trampy Mows the Lawn
The Great Sledge Race
The Mystery Tour
Our Very Own Circus
Community content is available under
CC-BY-SA
unless otherwise noted.