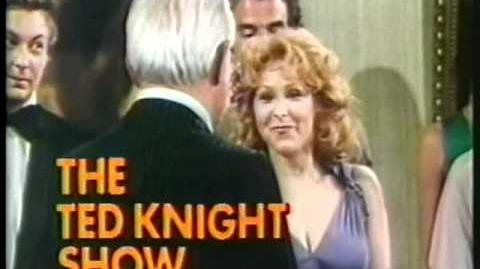 In the fifth episode of the second season of CBS' short-lived Busting Loose, "Mr. Dennis Steps Out", Lenny Markowitz (Adam Arkin)'s neighbor, Melody Feedback (Barbara Rhoades), is worried about getting fired by the owner of her escort service, Roger Dennis (Ted Knight). Unbeknownst to many, this turned out to be the backdoor pilot for The Ted Knight Show (not to be confused with his 1980 sitcom Too Close for Comfort, which was renamed The Ted Knight Show in its last season), a spin-off that follows Dennis as he operates the Mr. Dennis Escort Service in New York. However, his escorts just happen to be six young women (Dottie, Graziella, Irma, Phil, Cheryl, and Joy).
CBS had presumed that the very casting of Knight, fresh off a seven-season run as anchorman Ted Baxter on The Mary Tyler Moore Show, would have made the show a hit alone, but the main series (not including the pilot, which aired as part of Busting Loose) aired on Saturdays at 8:30 PM, next to Another Day, and both did miserable numbers for CBS. Unlike Day, Knight ran its full six-episode order and is not known to have unaired episodes. Since then, footage has turned up on YouTube, including the opening credits.
Community content is available under
CC-BY-SA
unless otherwise noted.