In 2006, Noggin aired one of the best shows on TV called The Upside Down Show. The show aired in 2006 to 2007. They showed reruns until 2011. In the Umbilical Brothers' YouTube channel, they uploaded all thirteen episodes of the show. There was a pilot episode that some fans may know or don't know.
The show's eighth episode Beach was about where the brothers found a beach ball and they can't find it. So they went to the beach and they were having a great time.
According to the Umbilical Brothers, the episode was a reimagining of the pilot episode. It was filmed at the Fox Studios in Australia. The living room looked different than the living room in the show. Shane and David's clothing was originally different than their normal clothes. David was originally going to wear a brown shirt with white sleeves and dark grey pants. Shane was originally going to wear a teal shirt and tan pants.
The puppet looked a little different than the usual sock puppet on the show. The outside of the window looks a bit different. There's no footage of the lost pilot episode or audio.
These pictures are only available on the Umbilical Brothers' Facebook page.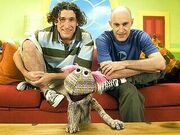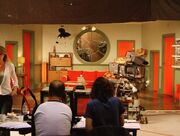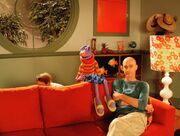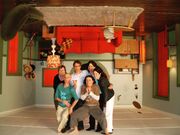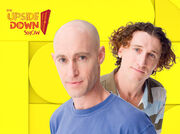 Community content is available under
CC-BY-SA
unless otherwise noted.