DISCLAIMER: This article (or part of it) deals with Violent, Sexual, Profane, and/or Drug-Related Content. Viewer Discretion is Advised.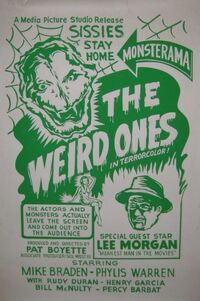 Before turning to comic books, draughtsman Pat Boyette produced a talk show, a puppet show as well as various TV commercials in the 1950s, but also directed three low-budget films in the early 1960s: Dungeon of Harrow (a color horror film, released 1962), The Weird Ones (a regional sexploitation comedy, 1962) and No Man's Land (a 1964 war film very little is known about).
Written, directed and produced by Boyette, the 76-minute black and white film The Weird Ones was shot in his natal city of San Antonio, TX, then was screened for the first time in February 1962.[1] The film is reportedly about a couple of press agents (acted by Mike Braden and Rudy Duran) specialized in promoting naked women, who stem to stop the Astronik, a space alien devoted to torture and murder young ladies.[2] In order to lead the Astronik into a trap, the protagonists use an extra-terrestrial "Cosmo-Cutie" as a bait, this character serving as a pretext for several softcore erotica scenes.
All negatives, related promotional materials and copies of The Weird Ones were, according to Boyette himself, destroyed in a garage fire, with only the theatrical poster surviving.[3] Whether or not another copy is held by the theatrical distributor is open to conjecture, as "Crescent International Pictures" has shown no signs of life since 1969, with just a few sex-oriented movies of dubious quality under their belt.
References
Community content is available under
CC-BY-SA
unless otherwise noted.