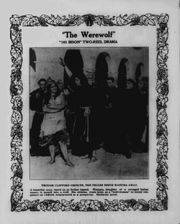 The Werewolf, a silent film released in 1913 directed by Henry McRae and released by Bison pictures, is reported to be the very first feature film about a werewolf.
The plot would have been about a Native American woman who sends her daughter to get revenge on White men by having her turn into a wolf.
From a short write-up in Monsters From the Movies by Thomas G. Aylesworth (from the 'Weird and Horrible Library'): 'The first werewolf picture, called, naturally, The Werewolf, was made in the United States in 1913. But it was actually a wolf girl film and was based upon an old Navajo legend. Watuma, an Indian girl, comes back to life one hundred years after her death to look for the ghost of the evil man who killed her boyfriend. To accomplish this, she, for some reason or other, decides to turn herself into a wolf.' The accuracy of this description can be questioned, but it is still some information on the movie.
No copies of the film are known to exist; apparently all of the known ones were destroyed in a fire.
References
http://monsterkidclassichorrorforum.yuku.com/topic/52855/The-Werewolf-1913
Community content is available under
CC-BY-SA
unless otherwise noted.