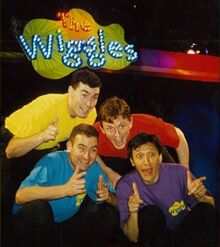 Individual clips have been released through a few different places, mainly the 1998 version of Wiggle Time! and The Wiggles' first and second TV series. However, it has never been released in full on VHS or DVD, and as of 2020 the TV special has never surfaced online. Once there was a user named "Wiggles Vids" uploaded the video "The Wiggles Disney Channel Australia Weekend Promo 1999" by using "StuTwo" video are "Various Kids Show Promos/Adverts [Circa 1999/2000] (Australia)" Sadly, StuTwo (who originally uploaded the Commercials video don't have "The Wiggles Big Show".
Community content is available under
CC-BY-SA
unless otherwise noted.