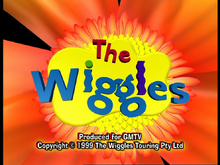 The original GMTV Airings 18-minute of TV Series 2 is really hard to find, only on TV Airings, Sadly. but nobody knows about GMTV Airings on TV Series 2, The 21-minute Episodes are regular and mostly common. The only Episode that released is Play (A.K.A. Playtime) was released on Playtime Children's Favourites UK DVD. The GMTV Versions are not have not be rerun or released for unknown reasons. GMTV Versions are not included the concert scenes, They have Studio scenes like Yummy Yummy (1998 remade), Wiggle Time! (1998 remade), Toot Toot!, Contained another edits to reduce running time, and Episode credits are shorter. Although, The Wiggles are Australians, TV Series Two first appeared on GMTV in Britain (United Kingdom) originally running 18 minutes. Unfortunately, when these episodes were brought back to Australia somewhen after The Wiggles released their original videos including The Dorothy the Dinosaur and Friends Video, Dorothy the Dinosaur Goes to Hospital, and The Wiggly Big Show, they had to be re-edited by running 21 minutes to match the timing of the previous television series.
List of 18-minute GMTV Episodes
Wiggle Food (LOST) - January 2nd, 1999
Numbers & Counting (LOST)
Dancing (LOST)
Dressing Up (LOST)
Your Body (LOST)
Play (LOST)
Safety (LOST)
Storytelling (LOST)
Friends (LOST) - March 9th, 1999
Multicultural (LOST)
Musical Instruments (LOST)
Hygiene (LOST)
Animals (LOST)
History (LOST)
Family (LOST)
Movement (LOST)
Nutrition (LOST)
Directions (LOST)
Manners (LOST)
Travel (LOST)
Play (Also known as Playtime) (FOUND on Playtime Children's Favourites UK 2005 DVD) (LINK)
The Body (LOST)
Communication (LOST)
Work (LOST)
Imagination (LOST)
Cow and Ducks (LOST)
Founded Episodes
Community content is available under
CC-BY-SA
unless otherwise noted.