We're Getting Mutants in the MCU - The Loop
Play Sound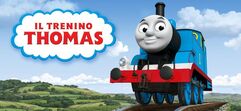 Thomas & Friends (Originally known as Thomas the Tank Engine & Friends or simply Thomas the Tank Engine) is a British-American children's television series based on The Railway Series by The Reverend W. Awdry, created by Britt Allcroft. by that, There was an Italian dub called "Il Trenino Thomas" formerly called "Il Trenino thomas e i suoi Amici", Due to being not so popular in Italy, The dub is partitally found.
The Dubbing
The dub was directed by Ariella Portolan (Season 1-7) Saviero Indrio (Season 12-19) then Deborah Ciccorelli (Season 22 ownards) and Made by Studio P.V in Season 1-7, E.T.S.Lmt in Season 8-19, then Beep Studios in Season 20 onwards
it is narrated by Angelo Maggi narrated season 1-5 Giorgio Bonino narrated season 6-7 and Giorgio Locuratolo narrated from season 8-21 (except for the first five episodes (in production order) of season 19, when he was temporarily replaced by Francesco Facchinetti). Cristina D'Avena narrated The Great Race.
And Like the Korean dub, every Characters has already have there individual Voice-actors since season 12.
Like other dubs, Thomas and the Magic Raiload, The Adventures Begins and Jack and the Sodor Construction Co. are not dubbed in Italy.
The Merchandise
Basically the Merchandise in Italy can be found on many toy stores, in Italy or in a few merch websites (like Ebay, Amazon, Etc.) but on this website here called "Thomas Shop" is an Italian merch website about the merchandise of Thomas & Friends.
Link: Here
The Season's Stating
Season 1: Found.
Season 2: Found.
Season 3: Found.
Season 4: Half found, The First 15 episodes found.
Season 5: Half found, Only 16 episodes are found (Most are LQ).
Season 6: Half found.
Season 7: Found
Season 8: Lost. (proof: https://www.youtube.com/watch?v=0C_7Pm4r31E)
Season 9: Lost. (proof: https://www.youtube.com/watch?v=0C_7Pm4r31E)
Season 10: Lost. (proof: https://www.youtube.com/watch?v=0C_7Pm4r31E)
Season 11: Never dubbed.
Season 12: Found.
Season 13: Found.
Season 14: First 9 episodes and last episode found.
Season 15: Found.
Season 16: Partially Lost.
Season 17: Partially Lost.
Season 18: Partially Found (Some are LQ).
Season 19: Found but one episode is incompleted.
Season 20: Found, The Christmas Coffeepot and Over Hill not dubbed
Season 21: Never dubbed.
Season 22: Found. (Audio)
Season 23: Found.
Season 24: Found
The Episodes That Can Be Found
Season 1-12 episodes are all uplaoded to Il Trenino Thomas Italiano's channel but CAE (Only the Beginning and Engine Roll Call [LQ] are found) and Season 8-10 are not found yet.
Season 12-19 are uploaded by some Italian fans but only popular episodes (Among them) are uploaded (for old CGI series), Season 16 episode are uploaded by Percy 07 in Low quality.
Season 22-24 are uploaded by Korean dubs and the main channel, Korean dubs has the Italian episodes of season 24 but all of them are low quality.
Old Series: OLD SERIES
New Series: NEW SERIES
The Cast
NOTE: From season 12-17 only Thomas, Sir Topham Hatt, Rosie, Emily, James, Henry and Percy's actors are credit (Uncredit in S15-17 on Cartoonito/Frisbee). From season 18-20, Duck, Clarabel and Toby's actors were credit and Rosie, Percy and Henry's actors are removed. From season 22 onwards, every each episode will credit the actor of that character that appeared in the episodes (Expect minor ones and ones that don't talk).
All series 12 episodes reuse the credits from the first episode. While the thirteenth and fourteenth series (only on Italia 1), the Italian credits was made of the UK credits from "The Biggest Present of All".
Thomas - Marco Vivio
Henry - Ambrogio Colombo
Gordon - Nicola Braile
James - Simone Crisari (Season 12-18), Gianluca Crisafi (series 19 onwards)
Percy - Mattia Nissolino (Season 12-18), Chiara Oliviero (Season 19-23), Lavinia Paladino (Season 24 onwards)
Toby - Sacha Pilara
Duck - Raffaele Palmieri
Emily - Chiara Gioncardi (Season 12-18), Deborah Ciccorelli (Season 19 onwards)
Nia - Clarissa Stefani
Rebecca - Alessandra Berardi
Sir Topham Hatt - Enzo Avolio (Season 12-18), Andrea Ward (series 19 onwards)
Sir Robert Norramby - Giovanni Petrucci
Diesel - Teo Bellia
Daisy - Mariangela D'Amora
Salty - Gaetano Lizzio
Rosie - Micaela Incitti
Marion - Alessandra Cerruti
Annie - Anna Cugini
Clarabel - Laura Amadei
Philip - Marco Barbato
Dexter - Valerio Massari
Ashima - Giò Giò Rapattoni
Rajiv - Danny Francucci
Gina - Gianna Gesualdo
Yong Bao - Giulio Petrucci
Ace - Marco Briglione (Big World! Big Adventures! only), Tony Sansone (Season 21 onwards)
Kwaku - Maurizio Tesei
Beresford - Dado Coletti
Beau - Giovanni Petrucci
Lorenzo - Dado Coletti
Beppe - Danny Francucci
Sonny - Omar Vitelli
Kenji - Ugo De Cesare
Ruth - Lilli Manzini
Baz and Bernie - Stefano Bianchini (Baz), Luca Graziani (Bernie)
Dr. Kim - Gianna Gesualdo
Professor Friedrich - Mino Caprio