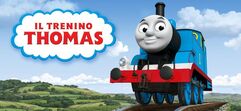 Thomas & Friends (Originally known as Thomas the Tank Engine & Friends or simply Thomas the Tank Engine) is a British-American children's television series based on The Railway Series by The Reverend W. Awdry, created by Britt Allcroft. by that, There was an Italian dub called "Il Trenino Thomas" formerly called "Il Trenino thomas e i suoi Amici", Due to being not so popular in Italy, The dub is partitally found.
The Dubbing
The dub was directed by Saviero Indrio then Deborah Ciccorelli and Made by E.T.S.Lmt in Season 8-19, then Beep Studios in Season 20 onwards
it is narrated by Angelo Maggi narrated season 1-5 Giorgio Bonino narrated season 6-7 and Giorgio Locuratolo narrated from season 8-21 (except for the first five episodes (in production order) of season 19, when he was temporarily replaced by Francesco Facchinetti). Cristina D'Avena narrated The Great Race.
And Like the Korean dub, every Characters has already have there individual Voice-actors since season 12.
Like other dubs, Thomas and the Magic Raiload, The Adventures Begins and Jack and the Sodor Construction Co. are not dubbed in Italy.
The Merchandise
Basically the Merchandise in Italy can be found on many toy stores, in Italy or in a few merch websites (like Ebay, Amazon, Etc.) but on this website here called "Thomas Shop" is an Italian merch website about the merchandise of Thomas & Friends.
Link: CLICK ME
The Season's Stating
Season 1: Found.
Season 2: Found
Season 3: Found
Season 4: 12 Episodes Found
Season 5: Found only one episode, and one found in LQ.
Season 6: Half found.
Season 7: Half found too (The first half is only found on the DVD "The queen of Sodor").
Season 8: Lost.
Season 9: Lost.
Season 10: Lost.
Season 11: Lost.
Season 12: Kinda found.
Season 13: Kinda found too.
Season 14: Lost.
Season 15: Lost.
Season 16: Partially Lost.
Season 17: Only 4 episodes on Dailymotion (But there not available anymore).
Season 18: Not so lost (Some are LQ).
Season 19: Found but missing one episode.
Season 20: Lost.
Season 21: Lost.
Season 22: Found. (Audio)
Season 23: Found.
Season 24: Some episodes have been found.
The Episodes That Can Be Found
Basically these episode from the Old Series is on online on YouTube.
For example: OLD SERIES
And for example: NEW SERIES
Community content is available under
CC-BY-SA
unless otherwise noted.