Wiki Targeted (Entertainment)
Play Sound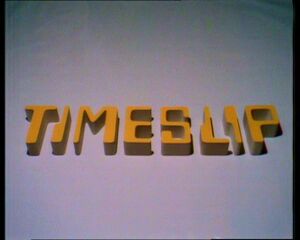 Timeslip was a British children's science fiction television series made by ATV for the ITV network and broadcast between 1970 and 1971. The show centered around two children, Simon Randall and Liz Banks, who discover a strange anomaly, known as the "Time Barrier", which allows them to travel in time to different historical periods in alternate pasts and futures.
The series was originally recorded on colour videtape, excluding episodes 23 and 24, which were recorded in black and white due to the 1970 ITV "Colour Strike". The episodes now only exist in black and white, presumably 16mm film copies of the original tapes. Only one episode survives in its original colour videotape format; the final episode of the 6-part arc "The Time of the Ice Box". VHS releases in the 1990's would have this episode in black and white; out of uniformity, however, it is kept in colour on DVD releases.
It is believed that the episodes' original colour master tapes were wiped and re-used by ITV Central in the 1980s after they took over from ATV, providing ITV programmes to the Midlands. At the time, these programmes were seen to have no commercial value and were deemed worthless, the concept of video tapes and DVD releases were, needless to say, not a consideration. Other sources state the master tapes survived, but were very badly damaged due to insufficient storage conditions.
Certain people online have attempted to colourise the series as a replacement to having the original colour videotapes, though no professional efforts seem to have been done for any releases. Incidentally, colourisations of the title cards can be seen on the official website for the series.[1]
References