Beginning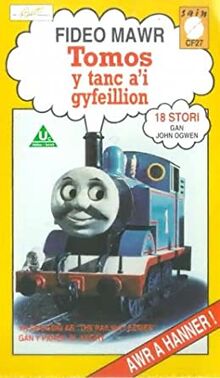 In 1984 Thomas and Friends aired it's first episode, it was of course very successful and other countries wanted to air the show, like France, Italy and Japan, You can find various Thomas episodes in lots of different Languages and The Welsh version is no exception, However some episodes aren't avaliable in Welsh, most notably Series 2. O'r Archif uploaded six episodes of the Welsh version and will most likely upload more.
User luke brough uploaded a good portion of the episodes online he also uploaded episodes of the series Tecywn y Tractor, but Margiad Roberts took down the channel because she didn't want her creation (Tecywn y Tractor) to be on Youtube. Most of the first series is available on Dailymotion and you can most likely find the remaing four episodes somewhere else.
Season 5 has some episodes missing as they where never Released on Home Media, and maybe they where not dubbed or they where dubbed and aired on S4C.
The Rarest VHS is "Help and 15 Other Stories", it contains the last eight episodes of Season 3, and 7 episodes of Season 4 (Henry and The Elephant to Mind that Bike minus Paint Pots and Queens.).
Luke Brough is back on YouTube but he is not reuploading the Tecywn y Tractor episodes
Episodes Found