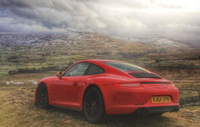 Episode 10 of Series 22 of motoring show Top Gear was supposed to be the last episode of Series 22. However, one of the presenters, Jeremy Clarkson, was suspended and eventually fired for a fracas between him and producer Oisin Tymon. Because of this, the entire Episode 10, as well as segments of Episodes 8 and 9 were put on hiatus in March of 2015, before never airing at all.
Unlike 8 and 9, Episode 10's official episode synopsis was never released, so details of the episode are limited. What is known is that there was going to be a showdown between the Ferrari LaFerrari, McLaren P1 and Porsche 918 Spyder, which would have likely have been the Power Test segment for this episode.[1]
Another segment was likely filmed on the day of the fracas. According to the Telegraph, Jeremy, as well as Richard Hammond and James May, were filming in Hawes, North Yorkshire, with three sports cars. Because Hawes was notably the same place where the fracas occured, it is likely this segment was indeed filmed on the same day as the incident.[2] It was also confirmed that the Porsche Cayman GTS and a Rolls Royce Wraith were two of the sports cars, thanks to a family who had taken photos of the cars. The photos can be found on the video where Sky News interviews them.[3] Top Gear cameraman Iain May also posted a picture of the Porsche Cayman GTS on top of a hill in the English countryside on Twitter on 5 March.[4]
The only other segment, although unconfirmed at the moment, was a review on the new Porsche 911 Turbo S. According to the Top Gear Wiki, there was also going to be a segment where James would review the Porsche at the Top Gear test track, something that had yet to have been aired in the Series. Although Wikis are generally unreliable sources, a First Look article on the car in March, by Top Gear themselves, possibly confirms this.[5]
References
Community content is available under
CC-BY-SA
unless otherwise noted.