Check out the Lost Media Wiki's article on the Totally Spies! pitch trailer!!!
In 1999, Marathon Media developed a pilot episode for Totally Spies!. It was green-lit and become one of Marathon Media's most popular property lasting six seasons, spawned a movie and merchandise, even influencing the studios other shows such as "Martin Mystery" and "Team Galaxy", as well as a spin-off to the series "The Amazing Spiez".

Despite the success and popularity of the series, the pilot episode has never been aired or released.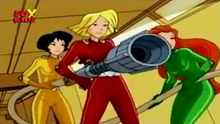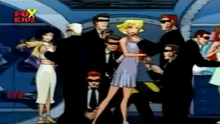 The only known evidence of this pilot's existence is a Fox Kids promo where footage was used showing a few scenes that aren't seen in any other episode of the show.
Differences from the pilot and series shows that the art-style used in the pilot was less anime inspired and used flatter colors. Alex also had a lighter skin tone.
April 15, 2021 update
A fan messaged Series director Stephane Berry about the whereabouts of the Totally Spies! pilot. He answered; stating that it wasn't an episode but rather a minute and 30-second trailer that he made in 1999 "Almost alone" between Paris, Los Angeles and Seoul. He explains that he doesn't know where the finished product.
References