In the late 90's, Marathon Media developed a pilot episode for Totally Spies. It was green lit and become one of Marathon Media's most popular property lasting six seasons, spawned a movie and merchandise, even influencing the studios other shows like "Martin Mystery" and "Team Galaxy".
Despite the success & popularity of the series, the pilot episode has never been aired or released.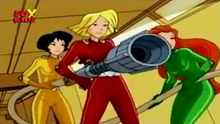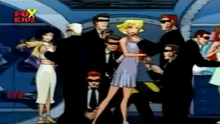 The only known evidence of this pilot's existence is footage used in a Fox Kids promo where footage was used showing a few scenes that aren't seen in any other episode of the show.
Differences from the pilot and series shows that the art-style used in the pilot was less anime inspired and used flatter colors. Alex wasn't Hispanic either.
April 15th, 2021 update.
A fan messaged Series director Stephane Berry about the whereabouts of the Totally spies pilot. He answered stating that it wasn't an episode but rather a minute and thirty second trailer that he made in 1999 "Almost alone" between Paris, Los Angeles & Seoul. He says that he doesn't know where the finished product is but that he could have some of the animatics from it.
References
Community content is available under
CC-BY-SA
unless otherwise noted.