A prototype of Toy Story 3 The Video Game made by THQ and Heavy Iron Studios was found on YouTube. The game was sold to Avalanche Software (who made the main home console game) and this release never saw into hands of every people. Screenshots and a video with this demo footage still appear - the game ISO file hasn't been published to the public. The demo was only on Xbox 360 and they are many Pixar Easter eggs.
List of Easter eggs
Tiny Toy Stories poster (in Andy Room)
Finding Nemo poster (in Andy Room)
The Incredibles Reference poster
Andrew poster (From Pixar Short)
Apple poster (Reference from Steve Jobs)
Wii Console (Nintendo X Pixar)
MacBook (Steve Jobs Reference #2)
Cars poster (in Andy Room)
The console with the demo was Toy Story-themed. It was sold on eBay but Disney kept the last console. [UPDATE] looks like the uploader of this video which uploaded other prototypes does have the prototype so i may contact him to send it to me the disc or iso file just going to contact him see you later guys bye - David Ganon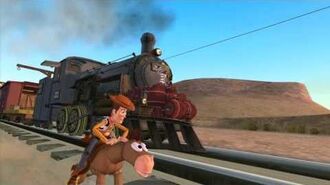 Community content is available under
CC-BY-SA
unless otherwise noted.