Ufouria: The Saga is a Metroidvania platformer developed and published by Sunsoft.
History
Magazines from the US show screenshots of Ufouria: The Saga. One of them was a title screen that said "LICENSED BY NINTENDO OF AMERICA, INC.", hinting that an American release was planned.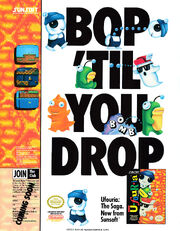 There was also an advert to promote the game in the US, but even then, it became a collector's item and sells for a higher price, thus making it a rare item.
However, the quirky character design caused the US version to be scrapped (which is also the reason the American release of Mr. Gimmick was scrapped).
 	 	   

In 2010, the game was available in the US via the Wii Virtual Console, however, no ROM of this localization had ever surfaced, so the European version was chosen. And because PAL used 50hz (rather than 60hz), the music was faster, debunking this localization. It was later released on the Wii U Virtual Console, but the ROM still wasn't available, so it's the same case as the Wii Virtual Console version.
On March 23rd, 2021, the prototype was finally found by armadylo, with even a ROM image of it being released.