Unlovable is an animated short film created by Esther Pearl Watson and Mark Todd as part of the Cartoon Network shorts department that was screened a few times at a film festival in 2017 and has yet to resurface.
Origin
Unlovable is based on the Graphic novel series Esther Pearl Watson made based on a diary she randomly found that has four volumes.
Availability
Unlovable was screened at the Hollyshorts Film Festival from August 10-19th in 2017 in the adult animation category and unlike the other cartoon network shorts produced around the same time (The Fancies, Mushroom & the forest of the world) has not be uploaded to their YouTube channel or resurfaced since at all in anyway. How much the short covers from the source material as well as the who worked on it other than Esther Pearl Watson and Mark Todd remains unknown as well.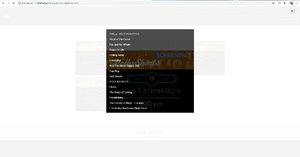 References
1. https://en.wikipedia.org/wiki/Cartoon_Network_Shorts_Department#List_of_pilots
2. https://twitter.com/fantagraphics/status/892492682827878401
3. http://www.hollyshorts.com/search?q=Unlovable
External Link
https://m.facebook.com/Esther-Pearl-Watsons-Unlovable-Fan-Page-111043678919913/
https://www.amazon.com/Unlovable-Unloveable-Esther-Pearl-Watson/dp/1560979550
Community content is available under
CC-BY-SA
unless otherwise noted.