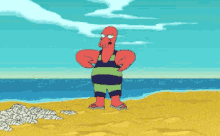 Hi.I'm John Zoidberg.Or is it Clint Eastwood?Nope,its Neither.Welp,You Can Call Me Scuttle.I Live In *Scuttles Away* WOOP WOOP WOOP WOOP WOOP WOOP WOOP!!!!
Lost Faves
Other Stuff
......I Like To Play Mario Kart!........Yeah That's About It.Just Kidding!
My Favorite Shows
Sonic the Hedgehog(Sonic SatAm)
Futurama
The Simpsons
Doraemon(1973,1979,2005)
GeGeGe no Kitarō(1968,1971,1985,1996,2007,2008)
The Amazing World of Gumball
Clarence
Animaniacs
Brandy and Mr.Whiskers
The Fairly Odd Parents
T.U.F.F Puppy
Kaibutsu-Kun(1968,1980)
Osomatsu-Kun(1966,1988)
Back to the Future: The Animated Series
The Super Mario Brothers Super Show
Super Mario World
The Adventures Of Super Mario Bros 3
Rayman: The Animated Series
The Ren and Stimpy Show
Hey Arnold
Little Shop
He-Man:And The Masters of The Universe
Adventure Time
Adventures of Sonic the Hedgehog(AOSTH)
Community content is available under
CC-BY-SA
unless otherwise noted.