Everyone in Lost Media Wikia, an Canadian actor by the name is Doug Lennox where he was been born in 1938 until he was died on 28th November, 2015.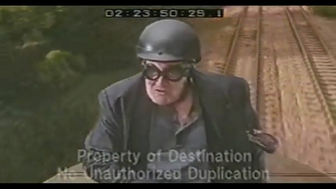 He also been played as the removed main antagonist from the 2000 film Thomas and the Magic Railroad known as P.T. Boomer, He was described as a drifter through choice and was Burnett Stone's adversary and the one who crashed Lady not Diesel 10.
P.T. Boomer was jealous of the relationship Burnett had with Tasha and he bullied Burnett into allowing him to take Lady for a ride and crashed her in revenge. Afterwards he left Shining Time and Burnett tried to restore her but to no avail.
He returns forty years later, bent on completing his revenge by finding and destroying Lady once and for all. Boomer would spend most of his time throughout the movie confronting Burnett Stone and Billy Twofeathers and digging into Muffle Mountain looking for Lady. He doesn't have any connections with Diesel 10 and doesn't believe in magic.
Later when the film testing is started, the test audiences complained that he was very scary from children so it was been edited, cut and remove the P.T. Boomer scenes then it was been release in 2000 but it was been gave an negative reviews from critics alike.
So he was died and use to live very peacefully, so we will miss the actor who played the main antagonist from the Thomas and Friends universe and it will gonna make an director's cut at Change.org that it will make an gift for him, the director's cut must go on.
Community content is available under
CC-BY-SA
unless otherwise noted.