watch 04:10
The Loop (TV)

VeggieTales is an American series of children's computer animated films featuring anthropomorphic fruits and vegetables in stories conveying moral themes based on Christianity. The episodes frequently retell and recreate Bible stories anachronistically reframed and include humorous references to pop culture. The series was developed by Big Idea Entertainment and is owned by DreamWorks Animation through its subsidiary, DreamWorks Classics.[1]
While several dubs of the show are known to be lost, missing, or unavailable to the public in some form, this Japanese dub is allegedly one of the most hardest ones to find, especially online. So far, all there is to be found of this dub online are two episodes "God Wants Me to Forgive Them?!?" and "Are You My Neighbor?" along with the recently-dubbed movies "Jonah" and "The Pirates Who Don't Do Anything" (both of which are available on digital retailer sites but only being accessible in Japan, not available on DVD in any form).
Findings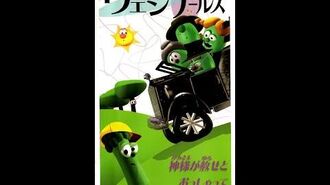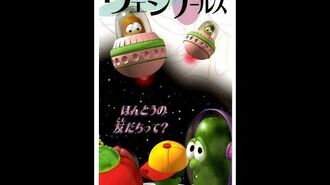 The Japanese dub of The Hairbrush Song (which can be found as a bonus easter egg feature on The Ultimate Silly Song Countdown DVD) was uploaded to YouTube by mikamikamika.
On YOUNG⭐LIFE's blogspot page, there is a photo of Japanese students watching the Japanese dub of Where's God When I'm S-Scared? (the Daniel portion only, though). However, the photo dates back to 2008, so it's unknown if that church still owns a copy of the Japanese dub for that episode, but either way, they might not be allowed to release it due to Japan's copyright law. According to the blog, Daniel and the Lion's Den was called "ダニエルとライオンの穴" in Japanese.
According to SuperOnion64, the Japanese tapes for Dave and the Giant Pickle and Larry-Boy! and the Fib from Outer Space! were available on auction somewhere online a few years back, but are now out of stock, and no one has come forward with VHS rips for both episodes in Japanese.
The Japanese dub of The Pirates Who Don't Do Anything: A VeggieTales Movie can be found on some sites, including Japanese versions of iTunes and Microsoft. You'll have to register, have a Japanese credit card and also use a proxy server to rent/buy the movie.
As of November 2018, a handful of songs (including the theme song) have also been recorded by BoyInCharge55 (aka Intertoons, Inc.) and uploaded to YouTube by BigRedMonster86 (aka NebbaKNezzaFan228).
The Japanese dubs of God Wants Me To Forgive Them!?! and Are You My Neighbor? have also been recorded by BoyInCharge55, and both episodes have been premiered on YouTube by BigRedMonster86.
On July 2019, TheLoon had accessed foreign dubs of Jonah (Universal dubs) on various international Netflix sites with a proxy server and leaked many of them, including the recent Japanese dub, on YouTube. All of them have been blocked on YouTube by Lionsgate, but luckily the Japanese dub is the only one of the recent dubs of Jonah that has been mirrored.
On December 22, 2017, the Japanese dub of The Toy That Saved Christmas was screened at a Christmas party. None of the footage has been saved, however.
Updates
3/21/16: Info on Wikipedia has been found here.
11/28/18: (BoyInCharge55) I won an auction for episodes 2-3 in Japanese on Yahoo Auctions!
12/10/18: To access the premiere of God Wants Me To Forgive Them!?! in Japanese, click here.
12/12/18: (BigRedMonster86) To access the premiere of Are You My Neighbor? in Japanese, click here.
12/13/18: (BoyInCharge55) SuperOnion64 managed to find the title for Very Silly Songs! in Japanese. I don't know where he got it from, but I'll update this if he ever tells me.
12/14/18: SuperOnion64 recently decided to download the Japanese dub of the Pirates movie, but failed.
2/11/19: (BigRedMonster86) Me and BoyInCharge55 are working together to try to get four of the other known Japanese tapes by posting a request here on HiNative for some people to provide the tapes on Japanese auction sites.
3/6/19: (BigRedMonster86) Sorry if this is late, but someone told us on HiNative that these Japanese-dubbed VeggieTales tapes are as scarce as they come and they can't help us there with finding the rest of the tapes, as VCRs are no longer common in Japan.
On the other hand, though, I got higher-quality versions of the two tapes onto NicoNico Douga thanks to BoyInCharge55 finally digitizing them in HQ. However, AYMN had tape glitches onscreen, so I had to edit it using the Chilean VHS visuals.
7/8/19: Sorry if this is late, but recently, a Japanese dub of Jonah: A VeggieTales Movie was released and was uploaded on YouTube on July 27, 2019, in case you want to see it, here's the link: https://www.youtube.com/watch?v=fEVyop99D8g
12/14/19: Sorry if this is late also, but the Japanese dub of Jonah got blocked by Lionsgate on YouTube. I, BigRedMonster86, have it reuploaded to Nico Nico Douga.
12/25/19: (BigRedMonster86) After waiting nearly a year, BoyInCharge55 sent me redigitized Japanese audio of AYMN (it's in slightly better quality, although the latter half of the video still has VCR buzzing). I did my very best to reconstruct both episodes in higher quality and reupload them to YouTube.
3/12/20: (BigRedMonster86) I closed my YouTube channel for reasons that do not concern you. So jordangaming101 decided to reupload the two tapes, please scroll up for the two videos. At least my uploads are still on Nico. ;)
References
See Also
VeggieTales (Rare Korean Dub):
https://lostmediaarchive.fandom.com/wiki/VeggieTales_(Rare_Korean_Dub)
VeggieTales (Various Dubs):
https://lostmediaarchive.fandom.com/wiki/VeggieTales_(Various_Dubs)
VeggieTales (Partially Found 1996 Brazilian Dub):
https://lostmediaarchive.fandom.com/wiki/VeggieTales_(Partially_Found_1996_Brazilian_Dub)
Community content is available under
CC-BY-SA
unless otherwise noted.