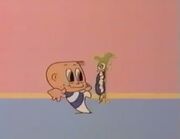 Virgul is a French animated series that was originally broadcast in 1988. It was produced by the "Epithete" and Canal + studios, animated by studio Jingle Angoulême and created, directed and written by Franco Milia.
Its total number of episodes is unknown, and each episode is only one-minute long, including opening and ending theme/credits. Because of this, it was also used as filler between shows.
The series was centered on a baby called Virgul (named after virgule, meaning comma) who would crawl out of his cradle each night to have a small adventure that would usually involve a girl baby who is his love interest.
There were no dialogues, only gibberish from the two babies, except from Virgul's mother who would call out his name at the end of each episode, prompting him to go back to his cradle before his mother checks on him.
In the early 1990's, French VHS editor company Fil à Film would often include two episodes of Virgul on a VHS tape that would contain children-oriented entertainment. However, a lot of those VHS tapes have become extremely rare and hard to find. One such tape of old French cartoon Moi Renart, for example, has two exclusive Virgul episodes that are only available to see at the National Library of France.
To this day, 11 episodes of Virgul have been uploaded to YouTube, but it is unknown how many more are left.
The episodes have no title text: the uploader would typically name the episode after the main theme from the plot.
Virgul - Le peintre (1988)

Virgul - La neige (1988)

Virgul - Album photo

Virgul - Lettre d'amour

Virgul - Chagrin d'amour

Virgul - La voyante

Virgul - Le Golfeur

Virgul - Le Chat

Virgul 2

Virgul - production epithete canal

Virgul 3
References
Community content is available under
CC-BY-SA
unless otherwise noted.