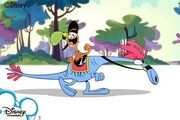 On July 14, 2012, Disney held a panel at SDCC 2012 featuring a teaser of its then-upcoming show "Wander Over Yonder".
The Trailer
It first shows Wander riding on Sylvia, then stopping at a tiny bug-like alien. Wander and Sylvia then greet the alien. They suddenly notice an army of Watchdogs chasing after them, they fly of a cliff using their Orble Bubble. They cheer as the Watchdogs fall off the cliff. The duo are later seen flying into space in their Orble Bubble, before the logo fades in. The only dialogue for the trailer is "Woah", said by Wander and Sylvia throughout the trailer.
Where to find?
Thanks to a Wiki contributor we now have this video for download right here just download it m8s not lost anymore guys
https://mega.co.nz/#!7RhlFC6a!W7e1FijhkQnHPMQ5F4eAfJHwHOS_6g__EGn6z6kakhE
Community content is available under
CC-BY-SA
unless otherwise noted.