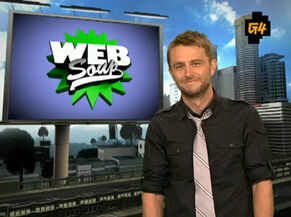 From June 7th, 2009 to July 20th, 2011, G4 aired a television comedy program called "Web Soup". The show was hosted by Chris Hardwick and ran for 3 seasons before eventually being cancelled 3 years before G4 shut down their network for good. The series focused on commenting on the latest viral videos, and had a very similar style as it's sister network E!'s series, "The Soup". Think of it as a bootleg version of "Tosh.0", which was basically the same show but had a more inappropriate sense of humor. The series ran until the conclusion of "G4" on December 31st, 2014 and none of the show's 54 episodes have ever surfaced onto the internet. Clips of the show have surfaced onto the internet over the past few years but no full episodes have ever surfaced.
Editor's Note: "As a long time fan of the show, I would love the start a quest to find this show. The series isn't that old but episodes are extremely hard to find online. Not even torrents exist of the show so no one ever posted episodes onto the internet. And if they did, links are clearly all expired with no way of downloading them. If we can find ANY episodes, I would be extremely happy. Despite it being a copycat version of "Tosh.0", it was still humorous to watch and enjoy. I would love to be able to go down memory lane and watch an episode again."
Community content is available under
CC-BY-SA
unless otherwise noted.