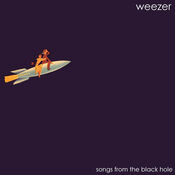 In 1995, the Los Angeles alternative rock band, Weezer, set out to make their sophomore album. After the immense success of their self-titled debut, lead singer and head songwriter, Rivers Cuomo, attempted to write a sci-fi space rock opera called Songs From The Black Hole. The album's plot concerned a group of young astronauts who are on their first mission after graduating the Star Academy. In their travels, the main character, Jonas, goes through a relationship crisis with two of the ship's females, Maria and Laurel.
For various reasons, this project was scrapped in favor of a new record named Pinkerton, which would go on to be a classic among fans (and years later, critics), but did poorly, commercial wise.
Most of the tracks from Songs From The Black Hole have appeared on various singles and compilations, but the full band version of the song, "Superfriend", seems to have been lost. While a demo, that Cuomo made himself, surfaced on Cuomo's first solo release, Alone: The Home Recordings of Rivers Cuomo, the studio recording of the track has yet to see the light of day. The only confirmation of it's existence that the public has, is a small snippet from a behind the scenes video, released on the DVD Weezer: Video Capture Device: Treasures From The Vault 1991-2002.
While it's completely possible it will one day come out, chances are slim. In 2010, Cuomo released both a deluxe version of Pinkerton and Alone III: The Pinkerton Years, and it seems he has given us everything is his possession, having to do with that era.
Community content is available under
CC-BY-SA
unless otherwise noted.