Wu tang clan are one of the most important Hip Hop acts of all time. with 40 million record sales worldwide they are also known for their surprising amount of artistic vison as shown in the story of the lost album Once apon a time in shaolin.
The album
The album was recorded between 2007 and 2014 and is reportedly about music exploitation between the baroque and Renaissance eras. the albums track listing is reported bu complex magazine to be the following. it has also been revealed it will be released in 88 years to the public though many band members disagreed.
​Shaolin School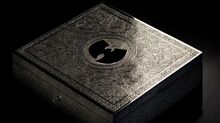 1. Entrance (Intro) (1:57) 2. Rivals (4:12) 3. Staple Town Pt. 1 (Interlude) (0:44) 4. Ethiopia (7:55) 5. Handkerchief (0:49) 6. Staple Town Pt. 2 (Interlude) (1:10) 7. The Pillage of '88 (6:52) 8. Centipedes (7:14) 9. The Widow's Tear (3:55)
10. Sorrow (5:45)
Allah School 1. Sustenance (Intro) (0:43) 2. Lions (6:08) 3. Since Time Immemorial (2:32) 4. The Slaughter Mill (6:31) 5. The Brute (3:24) 6. Iqra (7:23) 7. Flowers (5:49) 8. Poisoned Earth (4:34) 9. Shaolin (6:14) 10. Freedom [Interlude] (2:25) 11. The Sword Chamber (4:05) 12. Unique (2:32) 13. The Bloody Page (5:09) 14. The Saga Continuous (6:58) 15. Salaam (Outro) (1:31) 16. Shaolin Soul [Exit] (3:41)
A small clip of a song was revealed by Forbes
The buying
Martin shkereli eventually bought the album for 2 million dollars. He has no plans to release the album to the public nor listen to it as he says he saving it for a rainy day or if Taylor swift wants to listen to it (Dick). On December the 17th martin was arrested for fraud charges, during this the album was seized by authorities and is now in their possession and was reportedly listened to by certain cops.
It is unknown if the album will be released by anyone anytime soon but still fans hope it will be.
References
https://en.wikipedia.org/wiki/Once_Upon_a_Time_in_Shaolin
https://en.wikipedia.org/wiki/Martin_Shkreli
https://en.wikipedia.org/wiki/Wu-Tang_Clan
https://www.google.com.au/imgres?imgurl=http://wu-ha.wutangclan.com/wp-content/uploads/2014/04/WuTang1-e1395794252557.jpg&imgrefurl=http://wu-ha.wutangclan.com/the-secret/&h=653&w=1164&tbnid=Mh5qTv4Te-fcpM:&tbnh=112&tbnw=200&docid=xndPt8zA0SSVJM&itg=1&usg=__GfkHK01akVZIJ3sBNa02wM2DUdw=
https://www.youtube.com/watch?v=ABL5Elr16hc
http://au.complex.com/music/2015/03/wu-tang-clan-rza-once-upon-a-time-in-shaolin
https://www.google.com.au/search?q=once+upon+a+time+in+shanghai&rlz=1C1LENP_enAU507AU507&oq=once+upon+a+time+in+sh&aqs=chrome.0.0l2j69i57j0l3.7013j0j9&sourceid=chrome&es_sm=93&ie=UTF-8#q=once+upon+a+time+in+shaolin
https://www.google.com.au/imgres?imgurl=http://blogs-images.forbes.com/arleneweintraub/files/2015/02/1217_martin-shkreli-finance_416x416.jpg&imgrefurl=http://www.forbes.com/sites/arleneweintraub/2015/08/18/retrophin-sues-founder-martin-shkreli-for-65m-his-reply-preposterous/&h=640&w=640&tbnid=eXHkvrb_ZMxO_M:&tbnh=186&tbnw=186&docid=0ZvIQSZNkxytiM&itg=1&usg=__7hdh5sZxs_2YajpA2uibYHJ7knc=
Community content is available under
CC-BY-SA
unless otherwise noted.