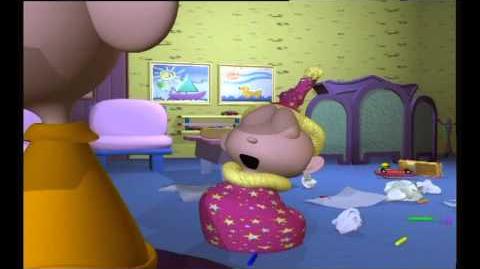 Wuz Wuz & Bott Bott is a computer-animated Arabic series that was in production from 2001-2005. The show was notorious for being a blatant rip-off of the famous Christian series VeggieTales, judging by its similar-looking character designs and animation style. Out of the 26 episodes, only 8 have been found on YouTube.
The following text is the official description of the series:
"From the moment the paintbrush starts working, this theater and its characters instantly transform into a dazzling world of 3D cartoons. Its paintings gaining color and the birds singing as the spirit of adventure seeps into them and they declare that their theater is not like any other … It is the theater of … WuzWuz and Bott Bott
They are two friends with no limits to their imagination. They weave an exciting world of stories and tales behind their stage. Once they get on stage, however, they are swept away by adventures that fly them to space and then take them diving in the depths of the oceans, or ride camels into secrets hidden in the hearts of caves and caverns, to discover the keys to the mysteries in the ruins of civilization. This happens during twenty-six separate thirteen-minute episodes that have fresh songs and carry the values of love, peace, forgiveness, cooperation and teamwork into a child's depths."[1]
References
Community content is available under
CC-BY-SA
unless otherwise noted.