X-Women: The Sinister Virus (also known simply as X-Women) is a cancelled video game for the Sega Genesis/ Mega Drive based on Marvel Comic's popular X-Men comic books. The game was intended to be the third and final entry in a series of X-Men game for the Genesis, following X-Men (1993) and X-Men 2: Clone Wars (1995). It was developed by Clockwork Tortoise, who had previously worked on The New Adventures of Batman and Robin for both the Genesis and Sega CD.
Description
As the title suggest, X-Women would have featured an all-female roster of playable characters, making it unique from other X-Men games which tended to put focus on male members of the team. Confirmed playable characters include Rogue, Storm, and Jean Grey. The game was to be a side-scrolling action game, similar to the previous X-Men titles for the Genesis. Each X-Woman would be able to use their special abilities in the game: Storm would attack enemies with lightning, Jean would grab and throw objects with her telekinesis, etc. All three characters could also fly.
Cancellation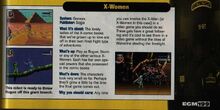 The game was scheduled to be released sometime in late 1996. This would have made it one of the last games (if not the last) officially released for the system. X-Women was shown off at E3 1996 in an early state. A short article on the game was featured in issue #89 of popular videogame magazine Electronic Gaming Monthly. The issue is dated December 1996, meaning the game may have been pushed back to 1997. X-Women: The Sinister Virus was eventually cancelled due to Clockwork Tortoise closing in late 1996/early 1997 and Sega taking focus away from 16-bit gaming all together.
Legacy
According to an interview on Sega-16 with John Pedigo, a former Sega of America associate producer who worked with Clockwork Tortoise, X-Women had a troubled history from the start. The game only made it to the early development stages, with only the art, music, and basic programming done. When asked about the existence of any surviving prototypes or ROMs, Pedigo claims he had one in his possession at one time but it had since degraded and was unplayable. It is unknown if any other former employees of Sega or Clockwork Tortoise who worked on X-Women: The Sinister Virus have a working prototype or ROM. The only evidence of X-Women: The Sinister Virus left are the afore mentioned EGM article and a short gameplay video, presumably the one shown at E3 1996.
References
A blog entry where the EGM article was found
Community content is available under
CC-BY-SA
unless otherwise noted.